Biostar M5ALA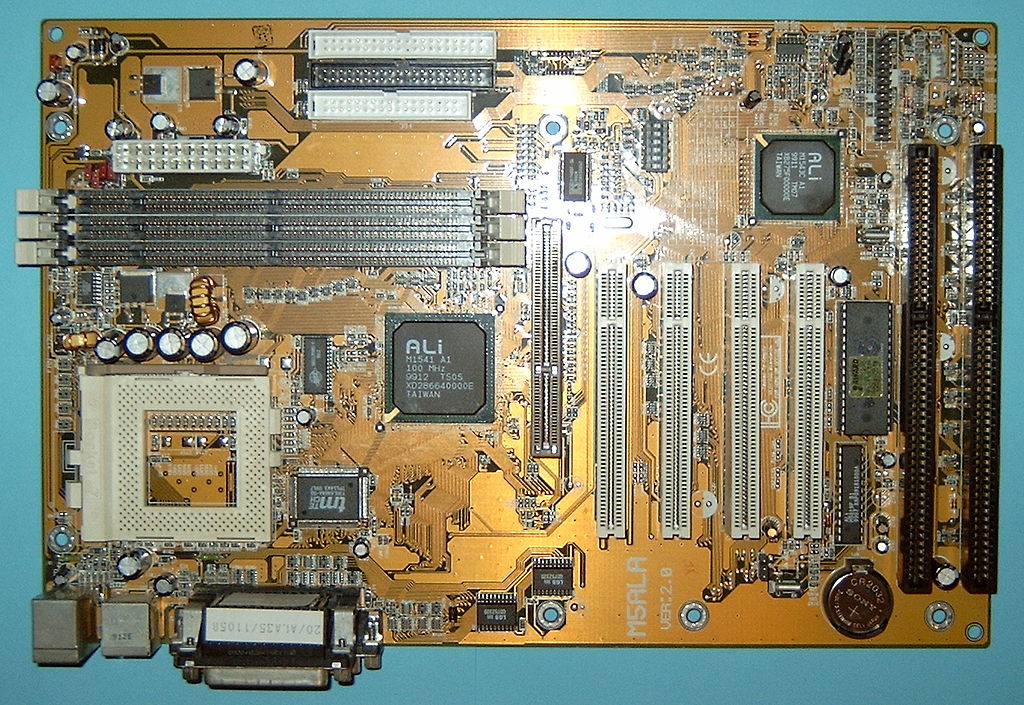 ALi Super TX (Aladdin V) chipset, 66 / 75 / 83 / 100MHz Host Clock, 2DIMM sockets, 4-PCI, 2-ISA, 1AGP slots. ATX form factor.
BIOSTAR
M5ALA Socket 7-AGP-100MHz
Super Socket 7 Motherboard
Specifications
Processor

Intel Pentium ® /MMX™/Overdrive ® Processor 90-266MHz.
AMD ® 5K86, And K6 ® 133-233MHz Processor Support
Cyrix ®/IBM ® 6x86/686L/MX™ P150+ to P233 Processor Support.
ZIF Socket 7 for Future Processor Support

Chipset

ALi Aladdin V (ALi M1541, M1543)

Cache Memory
System Memory

Supports 8MB to 512MB memory
2 168-pins 3.3V 64/72 bits DIMM sockets support

PCI IDE

2 x PCI Bus Master Ultra DMA(Ultra ATA, DMA/33)IDE ports (up to 4 IDE Devices)
Support PIO Mode 3,4, Ultra IDE & ATAPI CD-ROM, LS120(120MB Floppy)

I/O Interface

PS/2 Keyboard & PS/2 Mouse support
1x Floppy port (360KB-2.88MB)
2x Serial port (16550 high-speed)
1x Parallel port (EPP/ECP)
2x USB ports

BIOSTAR M5ALA Expansion Slots

1 x AGP Slot (Supports 1x an 2x mode)
4 x PCI 32-bit slots, supports 33MHz, & PCI 2.1 Compliant
2 x ISA 16-bit slots

BIOS

1Mbit (128KB) FLASH RAM
Award PCI BIOS with green, plug and play, INT 13 (>8.4GB), ACPI for PC98/Win98 Compliant & Anti-Virus Functions
IDE 1~ 4, SCSI, LS120, ZIP, & CD-ROM Bootable

Board Size

ATX form factor. 30cm x 20cm (WxL)

BIOSTAR M5ALA Special Features

66/75/83/100 MHz System Bus.
AGP Support.
---