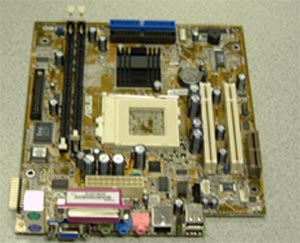 Rear Panel I/O Ports:

One Parallel Port
One VGA Connector
Two USB Connectors
Line in / Line out / Microphone Connectors
One RJ-45 LAN Connector
Internal I/O Interface:

IOC_MB Connector
One Floppy Disk Drive Connector
Terminator Tualatin
Two IDE Connectors (UltraSMA66 Support)


BIOS:

Smart Bios2Mbit Firmware has new easy to use interface which provides more control and protection over the motherboard .
Provides Vcore and CPU/SDRAM frequency adjustments .
Boot block write protection
HD/SCSI/MO/ZIP/CD/Floppy boot selection


Hardware Monitoring:

Has an easy way to examine and manage system status information , such as CPU and system voltages , temperatures, and fan status using the onboard hardware ASUS (Mozart-1) ASIC and ASUS PC Probe.

Motherboard Specifications
Processor Support:

Socket 370 PII Tualatin / Coppermine and Celeron
Celeron 300A ~ 900A Pentium III 1.13GHz (Coppermine) ~ 1.4GHz (Tualatin)
Chipset:
FSB:
Memory:

Two 168 Pin Dual Inline Memory Module
Supports PC133 /PC100compliant ,Non-ECC 3.3V SDRAM
Supports up to One GB RAM
Expansion Slots:

Two 32 - bit PCI (Rev. 2.2) expansion slots
One Audio Modem Riser (AMR) slot



On-Board Audio:

AC '97 Audio Codex
Line in / Line out / Microphone Connectors
One Game / MIDI connector



On-Board Video:

One VGA connector utilizing integrated SiS300 AGP graphics controller

On-Board LAN:

One 10/100 LAN connector utilizing integrated SiS900 LAN Controller
Special Features:

Enhanced ACPI and Anti-Boot Virus Protection
Suspend to RAM
Desktop Management Interface (DMI)