Home > Collectibles > Decorative Collectibles > Decorative Collectible Brands > Hummel, Goebel > Other Hummel, Goebel > Compaq 221267-001

Click here to go back

106357 - Compaq 221267-001
Condition: New . Warranty:90 days . $19.99



Taisol CGK 742092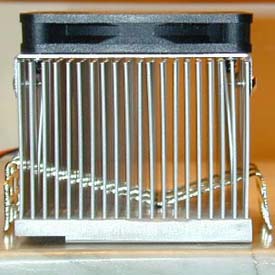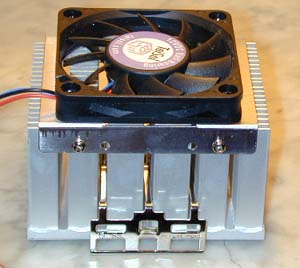 For socket A and socket 370 CPUs.
How is this cooler different from other coolers? The Taisol CGK 742092 is forged, not extruded. Meaning it was created and formed while it was still in its liquid stage. By doing so, there will be more density and surface area for more effective heat transfer.
A well produced unit which has a finely milled base. The fan is low profile and the clip attaches to all three notches on both sides and it has a hole into which you push the screwdriver from the side.
A quiet performer which is aimed at the OEM market that does not like noisy fans.
Fan Size: 60x60x10mm (Delta AFB0612HAS650 )
Rated Voltage: 12 VDC
Rated Current: 0.18A (Max 0.22)
Input Power: 2.16 W (Max 2.64)
Speed: 4800 RPM
Air Flow: 21.19CFM (Min 19.07)
Fan Life: 70,000 Hours
Connector: 3-pin Molex 2695
Material: AL6063-T5
Finish: De-greased
Dimension: 80x60x58.3 mm
The heatsink is really quite big. It's about 207 grams, so it is a bit heavy as well. Great for cooling.
The Taisol CGK 742092 utilizes a 3 hole clip that provides maximum contact and security. If you lose a lug you still have the other two lugs to keep the heatsink properly secured to the CPU and socket.
See comparison testing results at
---