Home > Peripherals, Supplies & Furniture > Bretford Notebook Storage Cart-24 Non-UL Listed-LAP24E-GM Ships Ready to Assemble

Click here to go back

108075 - Bretford Notebook Storage Cart-24 Non-UL Listed-LAP24E-GM Ships Ready to Assemble
Condition: New . Warranty:90 days .



Notebook Storage Cart-24
Non-UL Listed/Ready to Assemble
LAP24E-GM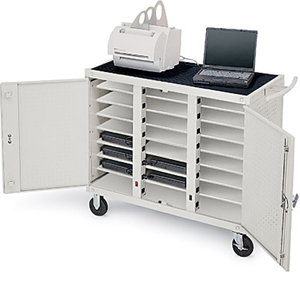 Mouse over thumbnail for larger image.


Automatic Timer-LAPTMR (Optional Equip)

The Notebook Computer Cart is ideal for securing and charging notebooks. A Three-Point locking system on doors along with a 40mm re-programmable combination padlock provides maximum theft prevention. It also comes with an Integrated Security Point (ISP) welded to it, allowing for the use of an additional security system. Additional  system Notebook Cart features a sturdy metal construction lightweight  enough for one person to move the cart between rooms. Notebook Storage Carts provide the convenience of a mobile computer classroom. Notebook Computers can be easily moved between rooms and shared among students. Or, use the unit as a central storage of location for notebooks. Cords are easily managed with individual cord holders for each notebook and a grommet hole at the back of the unit.
This unit ships ready to assemble. This Notebook Storage Cart stores and charges up to 24 notebook computers in individual compartments and provides room on the top shelf for a work surface or for use with printers or wireless devices. It includes two UL-Listed, 14-outlet electrical units installed in the back. Electrical units have on/off switches.
This Notebook Cart comes with a non-slip rubber mat on the top shelf and features two grommet holes at the back for cord management and access to electrical units. Doors, rear and side panels are perforated to allow the ventilation of equipment when charging. This Non-UL-listed cart comes with 5" casters, two of the cart's casters are fixed and the other two swivel and lock.
An Automatic Timer-LAPTMR (see Optional Equipment(s)) can be purchased and added to all Ready to Assemble Notebook Carts which fits inside the door. The Automatic Timer allows both charging units to be plugged into the timer. The timer switches the electrical current from one charging unit to the other, therefore charging all of the notebooks from one circuit (one outlet). The Timer requires a four-hour charging period per electrical unit - 8 hour charging time for all laptops.
**UL states that the maximum amount of notebooks that can be charged at the same time from one circuit is 15, less than one amp per laptop. That is why the LAP18, LAP24 and LAP30 require two charging units. UL recommends that each electrical unit be plugged into a separate electrical circuit when charging at no more than a consistent 13 amp usage to prevent nuisance tripping of the electrical breaker.**

Accommodating: Each laptop cart can be ordered fully assembled or knocked down depending on the model
Design: Top shelf comes with a non-slip rubber mat and features a grommet hole at the back for cord management and access to electrical units.
Strength: Constructed from 20 and 18 gauge steel for maximum strength.
Secure: Multiple-point bolting doors and re-programmable padlock deters theft and helps ensures the security of equipment.
Mobile: Each laptop cart comes with casters, two lock, making transporting easy and safe.
Model: LAP24E-GM
Cart ships ready to assemble with 5" casters, electrical units installed in the back.
Overall Dimensions: 42-1/2" W x 20" D x 37-7/16" H
Compartments: 12" W x 17" D x 3" H
Maximum Power: 30 amps/120 v
Weight: 234 lbs
Ships Ready to Assemble

LAPTMR-Automatic Timer:   Add $291.00
The Automatic Timer allows both charging units to be plugged into the timer. The timer switches the electrical current from one charging unit to the other, therefore charging all of the notebooks from one circuit (one outlet). The Timer requires a four-hour charging period per electrical unit - 8 hour charging time for all laptops.
UL-Listed: 7™ cord
Finished: Black
Overall Dimensions: 6" W x 6" D x 7-1/4" H
---