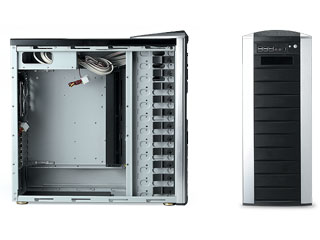 You can see the product release sheet here. This is a 1.79MB PDF file and will take a few minutes on dial up.
CM Stacker (STC-T01)
CM Stacker is a Full Tower computer case from Cooler Master with extremely powerful functions. The innovative design supports Extend ATX, BTX and dual power supply, making for easy upgrading. Besides its unique cross-flow fan, the CM Stacker supports up to eight regular fans, giving it unmatched cooling performance.
Power supplies not included.
Built from 1.0 mm thick steel plate, the CM Stacker is immensely strong, with a high-quality anti-vibration stand providing extra protection for the system. Designed for maximum extensibility and allowing the user the utmost flexibility in the utilization of space, the CM Stacker full tower makes upgrading incredibly easy, and can be configured to meet your own personal needs with minimum hassle. This configuration includes STF-B01-E1 cross flow fan and one 761345-22550-2 Antec TruePower 2.0 550W 24/20pin Power Supply.