---
Interloper PO 690 Black
Set of four Black Wedges
---
Compare features and performance with Cleveland ® Golf wedges at $129 per club.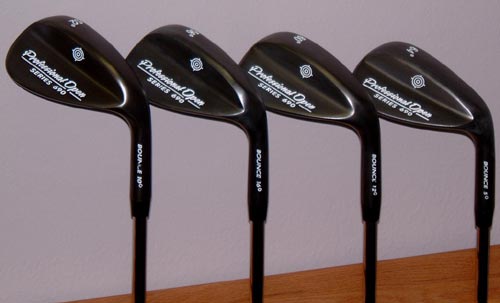 The PO 690 wedges feature great playability and a non-glare black finish!
Looks great and plays like a winner!
Specifications:
Set of 4 wedges in lofts of 52, 56, 60 and 64 º

Built with high quality stepped steel shaft with a low to mid kick point.

Standard Soft Grips featuring an ultra soft compound that is firm enough to prevent twisting for a great feel in your hands.

Heat treated in black milonite for a unique, non-glare finish and a slightly softer feel. Black milonite is extremely durable and will provide many years of quality play.
Semi U groove

Compare with the best classic wedge designs such as Cleveland's ® Golf 900 Form Forged Gun Metal Wedges at $129.00 each! For less than one Cleveland Wedge, you get a set of four PO 690 wedges.

Great wedges at a great price - what's not to like!

Perfect for golfers of all skill levels who are trying to shoot lower scores - especially in the short game.
Improve your golf game!
---
Renowned instructor and short game guru Dave Pelz recommends four wedges as an ideal way to improve your short game and lower your score. 63% of shots are in the sub-100 yard range. The better your short game, the better your score. This set of four wedges would equip you for a great short game. Order now and lower your score!

---